The creativity to inspire and engage
and the power to command action.
Creative Power Writing™
Coaching and Consulting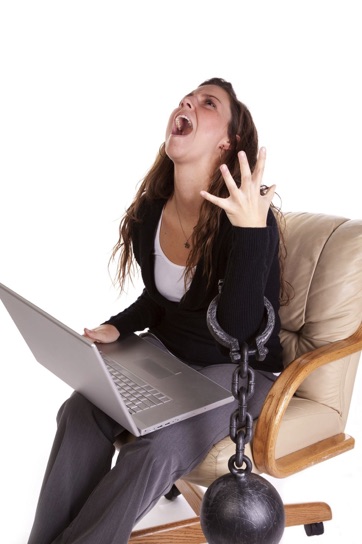 Chained to your computer writing business copy?
Who has time for a latte?
Don't squander your valuable time staring at your computer and begging the writing muse (who'll be ROFL! ).
Even if you manage to write something, will your words have the creative power to move potential clients to action?
Let me write copy that will engage and persuade--it's what I do best. You'll be free to do what you do best--grow your business!
You Don't Write Your Own Stuff, Do You?



A Cost-Benefit Analysis:
Why it's crazy to do your own writing
Your business suffers...
You spend hours at the computer instead of growing your business.
It looks free, but you're losing money when you're not working on your business.
Your writing is hit or miss.
Your business thrives!
You have free time to make $$$.
Increased sales and no lost time earn you more than you pay for writing.
Engaging, persuasive copy makes clients act and makes you $$$.
You suffer...
You feel stressed and frustrated from responsibility overload.
You procrastinate or miss deadlines because you didn't know what to write.
You feel stupid and apologize for your lame copy.
You thrive!
You feel relaxed, stress-free.
I meet all your deadlines.
You feel smart for thinking of hiring me!
When you do your own writing:













If You Must Write,
At Least Do This
What if you like to write, and you're pretty good at it? It's okay to do your own writing then, right? Sure, but hire an editor.
No one fairly evaluates his or her own work. Plus, writing "well" doesn't guarantee you can write persuasively, do SEO or keep copy direct and concise. Your jaw would drop if you knew how many factors I consider when editing a simple paragraph.
Your message determines whether clients buy, sign up, join, attend, call, donate…If it is weak or unfocused, no one will tell you. They'll just move on to your competitor. Let me bulletproof your message with professional editing.

...write a profile for that business magazine
Increase Your Ethos with Clients and Employees
Your success as a business owner directly relates to your ethos--your credibility, authority and worthiness of respect. Poor communication skills will shrink you in the eyes of your clients and employees.
Even if I write or edit your major copy, you and your employees write emails, estimates, invoices, memos and other texts that reflect your writing skills--or that hole where they should be.
Transform from Honey I Shrunk the Kids to The Iron Giant. Schedule a few individual coaching sessions for yourself and/or workshops for your team to make writing your superpower!


This was the best teacher I have had at Wilmington University. Very hands on, inspiring and responsive to any concerns. I've taken over 10 on−line classes and this teacher was the best I have ever worked with. Very reachable and responsive which for an on−line class is very important.
--from a student course evaluation